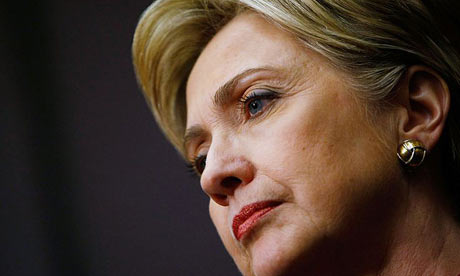 Hillary Clinton warned President Bashar al-Assad of the risk of sparking a regional war if he is found to be supplying long-range Scud missiles to Hezbollah. Photograph: Justin Sullivan/Getty
Tehran Warns Israel Against Attack On Syria As Arms Tension Mounts -- The Guardian
Iranian vice-president declares solidarity with Damascus after Clinton intervenes in Middle East missile row.
Iran has pledged to "cut off Israel's feet" if it attacks Syria, fuelling tensions over one of the Middle East's most combustible flashpoints after the US publicly warned Damascus not to risk starting a war.
Mohammad Rida Rahimi, the Iranian vice-president, made the statement today at the end of a visit to Syria that was billed as underlining the strategic relationship between the two countries.
Read more
....
More News On The Conflict Between Israel, Syria, And Iran
Iran, Syria enhance relations
-- Tehran Times
Iran: We'll cut off Israel's legs
-- Jerusalem Post
Iran Vows to Back Syria With All Its 'Strength'
-- Voice of America
Hezbollah leader won't say if militants have Scuds
-- AP
Clinton Blasts Syria Arms Transfers to Hezbollah
-- Voice of America
Clinton Warns Syria on Sending Arms to Hezbollah
-- ABC News
Clinton warns Assad about war risks
-- AFP
Clinton warns Iran, Syria on threats to Israel
-- AP
Are Hezbollah, Israel headed for another war?
-- Xinhuanet