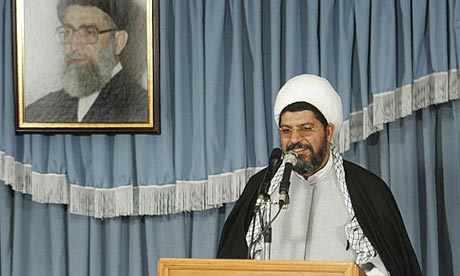 Hojjatoleslam Ali Shirazi, an aide to Ayatollah Ali Khamenei, pledged Tehran would send Revolutionary Guard units to escort Gaza aid convoys. Photograph: Reuters
Gaza Blockade: Iran Offers Escort To Next Aid Convoy -- The Guardian
• Aide threatens use of Revolutionary Guard
• Netanyahu warns of Jerusalem missile danger
Iran has warned that it could send Revolutionary Guard naval units to escort humanitarian aid convoys seeking to break the Israeli blockade of Gaza – a move that would certainly be challenged by Israel.
Any such Iranian involvement, raised today by an aide to the supreme leader, Ayatollah Ali Khamenei, would constitute a serious escalation of already high tensions with Israel, which accuses Tehran of seeking to build a nuclear weapon and of backing Hamas, the Islamist movement that controls Gaza.
Read more
....
My Comment
: This is not a realistic proposal. Egypt will not permit these vessels to pass through the Suez canal, which would then mean that these Iranian ships must do a trip around Africa, through Gibraltar, and then into the Mediterranean Sea.
Hmmmm .... Iran does not have the resources to do this. This is all theater and propaganda.