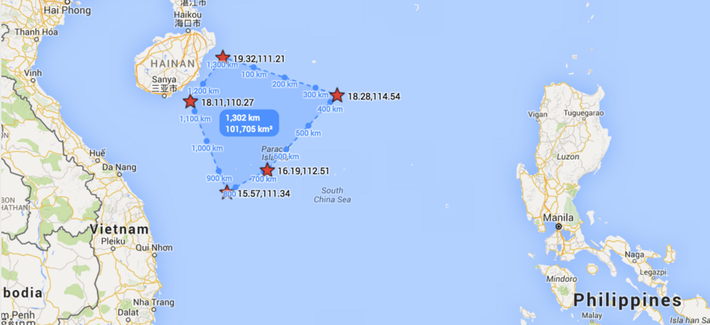 (Click on Image to Enlarge)
Defense One
:
China Declares a No-Sail-Zone in Disputed Waters During Wargame
The 38,000-square-mile trapezoid sits in the South China Sea between Vietnam and the Philippines.
China will conduct military drills in the contested South China Sea this week over a massive area of water that's larger than the U.S. state of Maine.
In a brief online statement (link in Chinese) issued over the weekend, Beijing said the exercises will run from today (July 5) until July 11, finishing one day before a UN-backed tribunal issues a ruling on China's sweeping territorial claims. China has long said it will ignore the ruling, and it refused to participate in the case, which began in 2013.
The statement gave precise geographic coordinates of the drills, which will cover an area running east of China's Hainan Island down to and including the Paracel Islands, which are controlled by China but also claimed by Vietnam. The latter's foreign ministry protested against the drills yesterday (July 4).
Read more
....
Military And Intelligence News Briefs -- July 5, 2016
Vietnam protests against Chinese drills in South China Sea
-- AP
China criticises Japanese jet scramble over East China Sea
-- BBC
Chinese, Japanese warplanes in close encounter
-- AFP
'Price to pay for US': Beijing ready to confront Washington if it intervenes in S.China Sea dispute
-- RT
Russia Wouldn't Need Incirlik Airbase Even if Turkey Offered It for Free
-- Sputnik
Diplomat: NATO's actions provoke risks and challenges to Russian security interests
-- TASS
Putin, Russian Security Council Discuss Baltic Airspace
-- RFE
Massive Leadership Cull in Russia's Baltic Sea Fleet
-- Defense News
Netanyahu Hints at Acquiring F-35B Fighter or V-22 Hybrid Copter
-- Sputnik
Nigeria To Acquire Super Mushshak Aircraft From Pakistan
-- Defense News
Is NATO ready to Improve its Naval Capabilities?
-- Defense Matters

Paris attacks: Call to overhaul French intelligence services
-- BBC
Poland Orders Counter-Drone System to Secure NATO Summit
-- Defense News
Polish arms firm in deal with US Patriot missile maker
-- AP
Britain's likely next PM Theresa May wants urgent vote on Trident renewal
-- RT
Georgian Defense Minister Under Fire Over Conscription Decree
-- RFE
NATO chief sees Canada's troop commitment as 'open-ended'
-- CBC
Canada ranks 23 out of 28 NATO countries on defence spending
-- CBC
Japan, US to limit legal protection for base personnel
-- AFP
U.S. ditched plan to give Afghan forces more armored vehicles
-- Reuters
U.S. ready to help Southeast Asia fight extremist sea attacks
-- AP
Austal takes $115 million LCS write-off
-- Defense News
U.S. military considers growing gardens on submarines
-- CTV/AP
Armor: Robotic Vehicles Become Smarter and Deadlier
-- Strategy Page
The 'Zulu Cobra' helicopter is one of the Marines' most powerful weapons
-- Business Insider
Walker's LLC. Streamlines High-Tech Hearing Protection
-- Defense Tech
I was a military wife for 13 years. I won't do it again.
-- Heather Sweeney, Washington Post
Warrior Ethos
-- Zachary Mierva, The Bridge
Can the F-22 Evade and Destroy Chinese HQ-9 Air Defenses - Now in the South China Sea?
-- Dave Majumdar, Scout
Will Israel's New F-35 Attack Iran?
-- Dave Majumdar, Scout