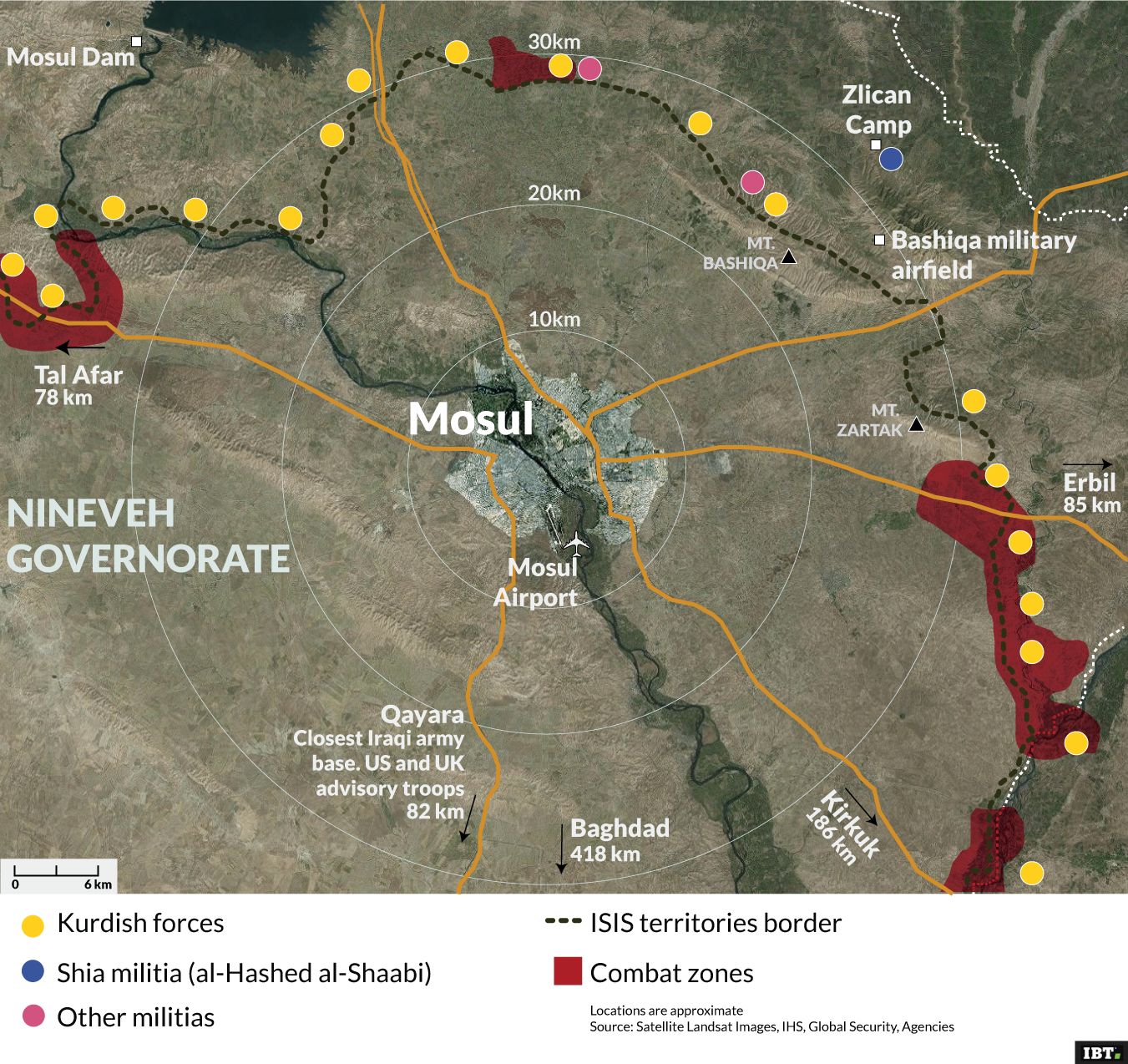 (Click on Image to Enlarge)
IBTimes
:
The Battle for Mosul: 3 maps explaining the planned offensive against the Isis stronghold in Iraq
Iraqi army units will push towards Mosul from the south while the Kurds wait in the wings
As Islamic State (Isis) fortifies the outskirts of Mosul with oil-filled trenches, barricades and blast walls, the Iraqi army and Kurdish forces surrounding the city are preparing for a bloody battle to liberate Iraq's second biggest city from the jihadis. After two years of brutal IS rule in Mosul, Baghdad is poised to take the city back with intelligence sources confirming to IBTimes UK on Monday (26 September) that the troops would move in before early October.
Read more
....
Military And Intelligence News Briefs -- September 28, 2016
US to boost military presence in Iraq ahead of Mosul battle
-- France 24
U.S. to send more troops to Iraq ahead of Mosul battle
-- Reuters
US-led coalition troops in Iraq reach 8,000: Official
-- World Bulletin
Chemical weapon wasn't used near U.S. troops in Iraq
-- Military Times/USA Today
ISIS no longer controls any Iraqi oil
-- RUDAW
Pyongyang Has 88 Pounds of Weapons-Grade Plutonium - Seoul
-- Sputnik
Bombs Away: Russia to Build Unique Mine-Clearing Robot Based on Armata
-- Sputnik
Russian nuclear sub test-fired 2 Bulava missiles from White Sea
-- TASS
'Black holes' of the Russian Navy
-- TASS
Panel: NATO Needs More Capability to Effectively Deter Russia
-- USNI News
Azerbaijan To Supply Military With New 'Kamikaze' Drone
-- Newsweek
Women in Combat: Female Battalion in Iran Joins Law Enforcement
-- Sputnik
Eavesdropping Norway Rolls Out Two New Spy Ships
-- Sputnik
UK MI5 Releases Secret Files of Soviet Spies, WW2 Double Agents
-- Sputnik
US air strike reportedly kills 13 Afghan civilians
-- Al Jazeera
Pentagon Probes Reports of Afghan Civilian Casualties in US Drone Strike
-- Sputnik
At least 7 Afghan military students AWOL in US this month, Pentagon says
-- FOX News
Carter: Afghanistan War Supplemental Request Coming in November
-- Defense News
US Looks to Accelerate Deployment of South Korea Missile Defense
-- AP
Greenland's receding icecap to expose top-secret US nuclear project
-- The Guardian
McMaster: U.S. Army Must Prioritize Close-Combat Capability
-- Defense News
A military aircraft whose cost goes down? Boeing churns out P-8 sub hunters based on 737
-- Seattle Times
Air Force budget woes could scuttle effort to add more airmen
-- Air Force Times
House Panel Set to Reform Military Space Operations
-- USNI News
So Much for 'The Few': Marines Corps Wants 8,000 New Troops
-- Sputnik
Marines May See Future Fights in Mega-Cities, Planners Say
-- Military.com
New Marine Corps Operating Concept Emphasizes Maneuver Warfare
-- USNI News
U.S. Believes Hackers Are Shielded by Russia to Hide Its Role in Cyberintrusions
-- WSJ
U.S. Air Force Preps a Controversial No-Bid Purchase of Spy Planes
-- Defense One
CIA director: 9/11 bill will have 'grave implications' for national security
-- The Hill
5 Statements From Top Military Brass That Should Concern You
-- Andrew Santora, Daily Signal
Unplug, Soldier! Too Much Online Time is Hurting the Army
-- Defense One