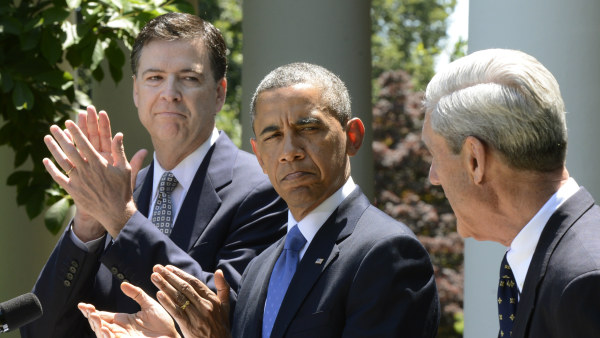 James Comey, left, and Barack Obama applaud outgoing FBI director Robert Mueller, right, June 21, 2013. Photo credit: NEWSCOM
The Hill:
Trump allies on the offensive against Mueller
President Trump's legal team and political allies have launched a preemptive strike against special counsel Robert Mueller.
Trump's backers are furious about a story that appeared Wednesday in The Washington Post, in which five anonymous sources alleged that the president is the target of an obstruction of justice investigation for allegedly trying to bury an FBI probe into his former national security adviser, Michael Flynn.
The timing of that story, which was published on Trump's birthday and a week after the White House believed the president had moved beyond allegations of collusion with Russia in the presidential election, was viewed by Trump's allies as evidence that the story was planted by law enforcement officials to ensure a shadow of suspicion would remain.
Read more
....
WNU Editor
: Well .... these Trump allies do have the deck stacked against them ....
How Will Trump Deal With a Stacked Deck?
(Fred Barnes, Weekly Standard). Even the Republican establishment is supporting Robert Muellar .... having no trouble with a Special Counsel heading a criminal investigation against the man who fired his friend ....
GOP Lawmakers: Don't Fire Robert Mueller
(US News and World Report).