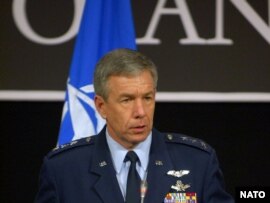 Photo:
Retired Air Force Lt. Gen. Henry (Trey) Obering. (Radio Free Europe)
Military Space Programs at Risk, Experts Say -- Global Security Newswire

WASHINGTON -- U.S. national security space capabilities, so critical to deployed combat forces and national missile defense, and the supporting industrial base are at a dangerous "tipping point" and need focused leadership and long-term stability in programs and budgets to avoid a crisis, a panel of administration officials and defense space experts warned yesterday (see GSN, July 27).
Retired Air Force Lt. Gen. Henry (Trey) Obering, the former director of the Missile Defense Agency, warned that the soaring cost and prolonged development time for new satellites had left the nation with no backup systems to replace any that could be affected by hostile action.
Read more
....
Update:
Military space programs at risk, experts say
-- Government Executive
My Comment:
This is not the only program that is at risk. But with Congress now facing unsustainable budget deficits, space programs like NASA and the U.S. military space program are at real risk of suffering severe budget cutbacks.