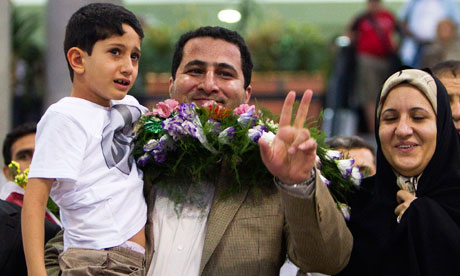 Iranian nuclear scientist Shahram Amiri returns to Tehran after claiming he was abducted by the CIA. Photograph: Raheb Homavandi/Reuters
BBC
:
Iranian nuclear scientist Shahram Amiri 'executed'
An Iranian nuclear scientist detained since 2010 has been executed, his family has told the BBC.
Shahram Amiri's mother said the body of her son had been returned to their hometown with rope marks around his neck, showing that he had been hanged.
He was later buried. Amiri had been held at a secret location after returning from the US, where he said he had been forcibly taken by the CIA.
Some reports say he had in-depth knowledge of Iran's nuclear programme.
Mr Amiri, who was born in 1977, went missing after taking a pilgrimage to Mecca in 2009.
He surfaced in the US a year later saying he had been kidnapped and put under "intense psychological pressure to reveal sensitive information" by the CIA.
Read more
....
Update
:
Iran executes nuclear scientist who had 'defected' to US
(Times of Israel)
Previous Posts
....
Meet The Man Who Has Been Spilling Iran's Nuclear Secrets To The CIA
(March 20, 2010)
Did Iranian Nuclear Scientist Defect .... Or Was He Kidnapped?
(June 9, 2010)
Nuclear Scientist Shahram Amiri On His Way Back To Iran
(July 14, 2010)
Was Iran's Defecting Nuclear Scientist A Double Agent?
(July 22, 2010)
WNU Editor:
It looks like the Iranian authorities did not believe his "I was kidnapped by the CIA" story.